TransFollow API Introduction
Overview
With TransFollow senders of cargo, logistics providers and recipients can input, exchange and sign a single uniform and standardised digital consignment note. The TransFollow platform also facilitates standardised track-and-trace information between the partners in the chain.
TransFollow offers legal certainty and is just as reliable as a paper consignment note. With this secured, standardised digital solution, the logistics sector can optimise the consignment note process and improve communications between all the partners in the chain.
Components
The TransFollow API exposes the TF Backend. The API is designed for use by a variety of client-side systems: mobile, web based and proprietary transportation support systems. It is a HTTP / JSON API based upon REST principles. The following scheme shows all components of the TransFollow system: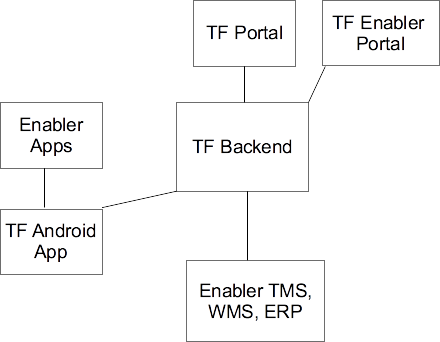 | Component | Function | Used by Consignor/ee | Carrier | Enabler |
| --- | --- | --- | --- | --- |
| TransFollow portal | View eCMR | v | v | |
| TF Enabler portal | Manage Accounts and Credits | | | v |
| TF Android App | View and sign eCMR. Also contains integration interface for carrier apps. | v | v | |
| Enabler Apps | Integration of extended functionality for carriers | | v | |
| Enabler TMS | Integration of extended functionality for TMS, WMS and ERP systems | | | v |
Content of Documentation
The set of documents and related materials on this site has been assembled to assist developers in connecting to the TransFollow API as quickly and easy as possible. All of the documentation is accessible through the left-hand menu. A short description of the menu items:
Prerequisites
If you want to connect to and use the TransFollow API, you should be familiar with the HTTP protocol, the JSON data representation and REST principles. Also welcome is OAUTH2 knowledge.
Mobile App Development
If you are developing for Android, consider using our TF App integration interface in your app.
Contact
For implementation support contact us at support@transfollow.org or +31(0)6 23 90 9477 (during working hours, our office is based in the Netherlands).